Lonville wins Le Mans on the wrist of Gabriele Gardel
Posted: 20 June 2011 by: Lonville
Last week-end at Le Mans was a truly unique experience. We had the honour of being close to Gabriele Gardel the full week-end, and see him and the entire Larbre Competion team and drivers battle fiercely to bring home the victory of the 2011 GTEam class.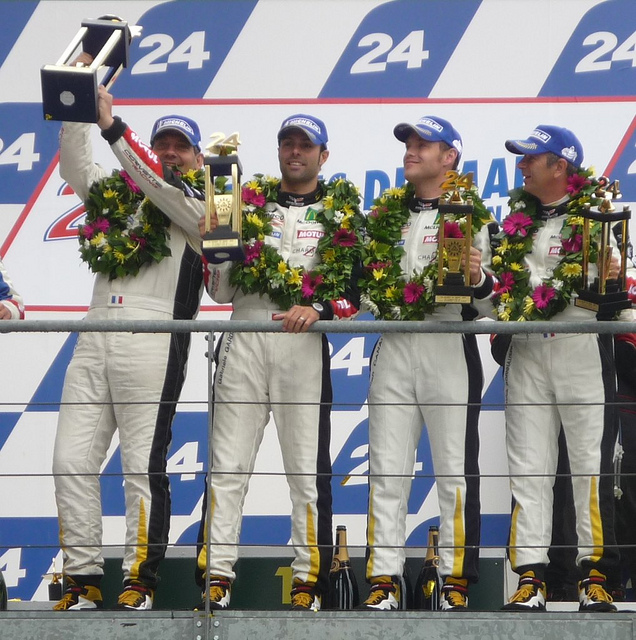 Le Mans is a magical place – it breathes history. Some of the greatest marques and drivers have battled it out on this circuit. From the Mulsanne straight to Arnage. As true car passionates and lovers of classic cars, it was somewhat surreal experience to be there with the drivers, in the pitts and walking through the start-grid just minutes before the race. Humbling.
Still, nothing could have prepared us for the intensity of going through the emotions and the ups and downs of the team throughout therace. Watching the lap times of Gabriele and the competition, working out the lead and seeing the pure dedication of the entire team at work during the intense pitt-stops.
Le Mans does not let you sleep, it fuels you with adrelaline, it deafens you with engine noise and takes you on an 24 hour lasting emotional roller-coaster as you watch your team battle it out and escape major accidents and technical disasters from day time into the mysterious night time, and then back into the light It is pure endurance and nobody, including the fans, is giving up until the checkered flag waves.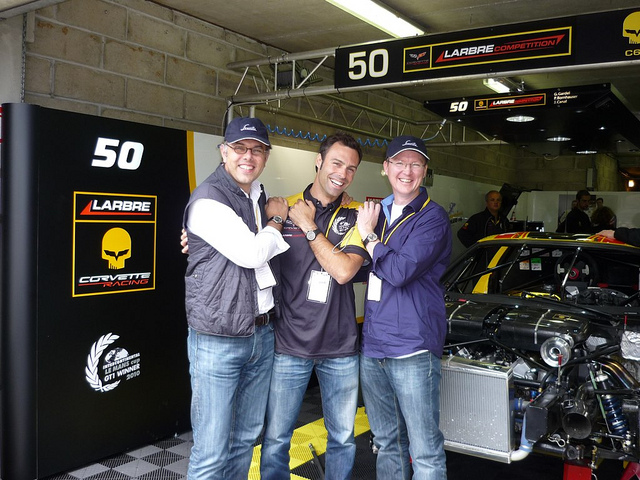 For Lonville, Le Mans was a very serious milestone in our re-birth. A special one-off Lonville Watch (the G24 prototype – more about that later) was created for Gabriele to wear during the entire race. With nearly 10 hours and 2000km at speeds touching 300km/h, cockpit temperatures touching 50 degrees and hardly any suspension in the corvette, this is a grueling test for any mechanical watch.
Exposing a pre-production movement and watch to these conditions may appears insane to some. For us, this was the ultimate test and ultimate connection of Lonville to our beloved world of motorsport. It was also going to give us some real good information on which parts of the watch would fail under all that stress and G-forces. In all fairness, prior to the race we were expecting a number of possible failure points in the movement. After all, this was a one-off pre-production movement set in a one-off blackened gold case.
But, we had our victory too. The G24 watch performed faultless on Gabriel's wrist! After each driver change we examined the watch (all hot and drenched in sweat) its time keeping and any visual damage to movement or case. And each time we gave it back to him to take it out to battle again.
And then came the real magic. With 22 hours into the race, a driver change and new tires,  Gabriel got back in the car. Once again there were major accidents due to rainfall. Still, our paddock started to fill with people and press and gradually the sensation of belief, of victory, was coming over us. Team chef Jack Leconte pulled usdown to earth by saying "c'est ne pas fini". And he was right…Le Mans is exciting until the very last minute. Exciting for the fierce battle between Audi and Peugeot in the Prototype class, and for Gabriele's Corvette battle with the Porsches and Ferrari's.
And then suddenly it is one minute to go, and the unbelievable is suddenly true: Gabriele secures the win of the 24hrs of Le Mans for the second time in his career. As the crowds cheer we all storm out of the paddock onto the pit lane., it is crazy, it is energy relief and I see the tears of immense happiness, relief and pride in the eyes of the team. I shake Jack Leconte's hand and he somewhat formally thanks me for the support. All I can do is thank him, the team and our own hero Gabriele to make this one of the most memorable week-ends of my life.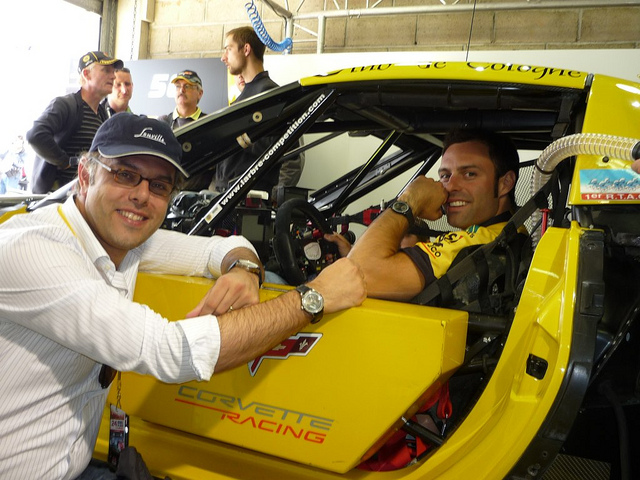 But it's not over yet. The winning team bosses and drivers are summoned to the giant overhead stage where the trophy, flowers and champagne are handed out in front of 250'000 cheering fans. Just before Gabriele and team Larbre come out, Linda, his wife, shouts at me "look up!". There is Gabriele waving at us from above, showing his wrist with the Lonville prototype. He gives a thumbs-up. An amazing sensation grabs hold of me. I'm at Le Mans where my hero's of the past rose to fame, where my beloved Jaguar made its race-reputation in the 50's, where my new hero Gabriele has taken his second victory and where Lonville suddenly has come of age. It does not get much better than this. Thank you Gabriele.