LV2 movement for G24 confirmed
Posted: 12 November 2013 by: Lonville
The G24 is a very special and unique watch, so we decided to base it on a completely different movement from Virage. The LV2 movement is both beautiful and robust….the ideal base for a watch that has its spiritual place of birth in Le Mans!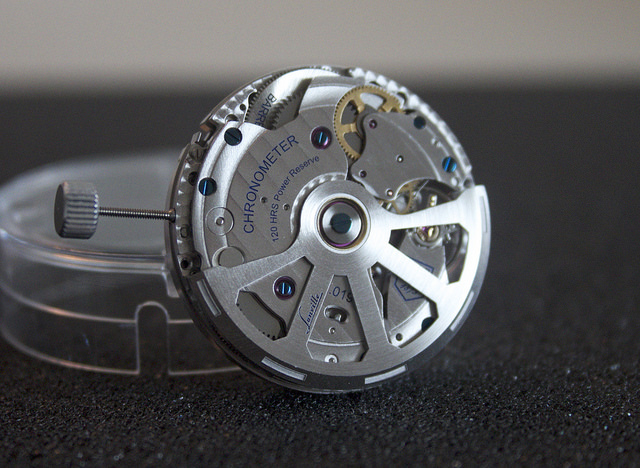 So what is special about this movement?
The first thing that strikes you is that the LV2 wears the Lonville signature decoration: Cotes de Geneve, blued screws and our favourite blue engraving. The rotor design is by Matthew Humphries and is modelled after a Bugatti typo35 wheel. Why? Ehh…because we love those cars too!
Technically speaking LV2 is an advanced movement. It is a double barrel construction that boasts a very significant power reserve of 120 hours. This means 5 days of operation without every touching the watch. The power reserve indicator shows how far the watch is wound at any time. Obviously, the movement is automatic so will be constantly wound when it is worn.
Each movement is individually numbered (LV2.001, LV2.002, etc) and each movement has spend a few weeks with COSC (The official swiss chronometer institute) to ensure it performs faultless and very very accurate at different operating positions and at different temperatures. Every G24 owner will receive the COSC certificate for their very own movement.
Another unique feature is the retrograde date complication. A tiny hand indicates the date (from 1 to 31) and at the end of the month the date had will jump back, and start again at day 1. The unique styling of the G24 integrates the retrograde date and the peer reserve in a symmetrical design.
The movement is completely constructed in Brenets, a tiny village in the heart of the century old Swiss watch making valley, and adheres to our essential concept of 'All Swiss'.